Verdant Solutions understand the needs of engineers & contractors and with over 40 years experience in the use of reinforced & retaining wall systems we can help with concept design , budget costing and installation on any of our products. Working with our clients we can offer cost effective solutions that are designed using proven, high quality materials.

Gabions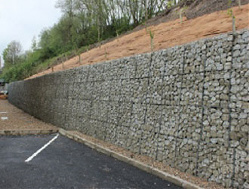 Engineered retaining structures, which are designed as mass gravity walls to hold back earth or other solid materials without overturning, sliding or foundation failure. The modular structure of these walls allows for variation in section to be accommodated as the height increases. Available in PVC coated, triple galvanised aluzinc coating or stainless steel finishes.

Secura Grand Retaining Wall System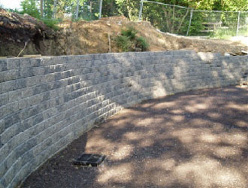 Mortar-less, hand laid, concrete block retaining wall systems in varying colours and finishes. Secura Grand is ideally suited to landscaping schemes such as housing developments, roads, commercial property etc. It can be used as a gravity walling system or, combined with a Geogrid, to form reinforced soil walls for retaining structures.

Reinforced Soil Wall Systems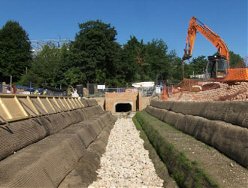 The Reinforced soil system combines granular backfill with soil reinforcement to form durable and robust retaining structures capable of supporting substantial loads. Reinforced soil systems can be used to construct retaining walls and bridge abutments for highway and railway applications. They can also be used for industrial structures, mining structures and marine structures.

Geobags

Heavy duty standard or special purpose large and small bags made from woven fabrics to contain sand, grout, silt or soil.
For use as Cofferdams, for beaches and underwater repairs, bank protection, head walls etc.
If you would like us to send you more information please contact us.