Specialists in geosynthetics and erosion control systems.
Verdant Solutions have over 30 years experience in providing a comprehensive range of geosynthetic products, and expertise in habitat creation, erosion control solutions and bank stabilisation systems.

We offer a wide range of high performance products and solutions for erosion control and wetland habitat creation, using our cost effective and extensive product range.
Verdant solutions are proud to own the largest UK undercover wetland plant nursery. Within this state of the art facility, and using specially selected British native aquatic plants, we produce the finest habitat enhancement and bioengineering products including coir fibre rolls, coir pallets and edge sods, all of which are 100% biodegradable.
We offer a broad range of other high performance bioengineering products for erosion control and wetland habitat creation.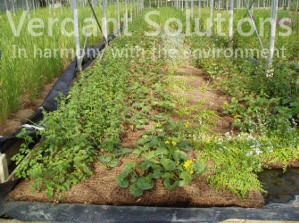 Erosion Control Matting

Silt Fence

Nicospan

Rock Rolls

Geocells and Geomembranes

Geotextiles and Geogrids

Retaining Structures
Liners

Habitat Enhancement

Grass protection

Bioengineering

Native Aquatic and Wild Flower Plants

Earth Reinforcing
As a specialist sub-contractor we can provide help with concept design, budget costing and installation advice. We ensure that our clients are fully supported through the life of projects, ensuring the best use of our materials and solutions for all civil engineering, habitat and environmental projects.
We work very closely with consultants, architects, ecologists, contractors and landscapers. In today's climate where the concerns for the environment are paramount, success relies on combining sound engineering practices with suitable products that result in projects that sustain or improve the environment.
If you have any further queries please not hesitate to contact us, we are always happy to help, and will get back to you as soon as possible.